Do You Love Durian Enough To Wear It On Your Face?
Are you a durian lover? Or friends with one?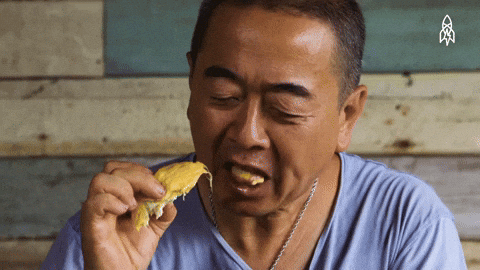 Well, there's a new way for your to take your love for durians to a bizarre level. A local beauty product company has just launched a new range of makeup inspired by the king of fruits!
The collection, aptly named "Musang King Collection", comprises of 5 durian-infused products, which include an amazing bottle of perfume! (What?! Are they for reals?)
The most intriguing product on the list has to be the durian lip-colour though. It's a durian scented, bright yellow velvety smooth matte lip colour. Sounds yummy enough to lick it off our lips!
Other items include eyeshadow and highlighter, all infused with durian fragrance. Yep!
Currently, you can only find the items on their online store and Lazada. And, they're surprisingly reasonably priced! Take a look for yourself and tell us you're not tempted to buy it RIGHT NOW!
Article via Product Nation
You Can Borrow eBooks And Audio Books From The National Library ONLINE, AND FOR FREE!
Unless you're above 30, you probably never went to the National Library. It's OK, we haven't either. Nevertheless, it turns out that you don't even have to go there to borrow books now!
Facebook user Jumie Mumie recently shared this news online and we are beyond amazed. According to her, the National Library has had a reading app this whole time, offering up to 14,000 book titles to borrow, all for free!
At first, we were a little sceptical. It cannot really be THAT easy, kan? OR, even if it was that easy, mesti their book selection will be boring. So we thought we'd check it out for ourselves.
Turns out, they have a lot of books we'd actually like to read! This is a screenshot of just the first page and it doesn't look too bad, guys. How did we not know about this sooner?!
If you're interested in borrowing some books, here's how you can do it.
1. Click here to go to the National Library website.
2. Browse through their book titles until you've decided on a book you'd like to borrow. Tip: Head over to "Collections" and choose from "Most Popular ebooks". From there you can check out different genres too.
3. Once you've decided on a book, click BORROW at the bottom of the title.
4. You'll then be redirected to this page:
From the drop down menu on the left side, choose "Library card number".
The website will then ask you for a library card number. According to Jumie, you can type in anything between pnm001 to pnm999.
We typed in pnm001 and managed to get through, no questions asked! Tip: We don't recommend that you go with the "Sign in with Facebook" option. Only cause after signing in with Facebook, they still ask you for a library card number before you can borrow a book.
5. The website will then redirect you back to the book selection page and you'll be prompted to confirm that you'd like to borrow the book. Click on "Borrow".
6. You then have the option to download the ebook or just read it directly from your browser.
It might be important to note that this is the procedure for when you're visiting the website via a desktop or laptop browser. We suppose it might be a bit different if you're accessing the book through the National Library's app. However, we're sure it will be just as easy and just as free!
In case you're wondering, yes, you will be sharing those pnm001 – pnm999 library card numbers with other people. A quick check under "history" for the library card number we used showed a tonne of books we've never clicked on to borrow.
We hope the real owner of pnm001 doesn't mind that we've just borrowed a bunch of titles under their card number!
Anyway, we still can't believe this info isn't widely known. Can you imagine all the books you could have been reading this whole time?! and for free pulak tu! Which book are you gonna borrow first?