Shout "Goal!" With Everyone Else At These 4 Epic Football Viewing Parties
With the World Cup 2018 fever kicking off tomorrow, you bet there's going to be a lot of late nights and early mornings of football madness. But shouting "Goal!" alone in your living room isn't quite as fun as doing it with hundreds of others at a viewing party. Then of course, there are the fun activities and special guests lined up to get you amped-up before the matches too.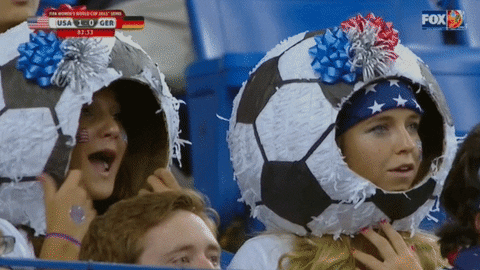 So, which viewing party should you crash this World Cup season? We've compiled a few of them for your convenience…
#1 Genting Football Fever
When: 14 June to 15 July
Where: Genting International Showroom & Arena of Stars
Since May and right up till 15 July, Genting's Arena Courtyard has been transformed into an interactive football village where lots of activities have been lined up. Here's the best bit—they've invited famous football legends to join the party too. Michael Owen will be there on 14 to 16 June to catch the opening ceremony, while Robbie Folwer and Paul Scholes will be there on 13 to 15 July for the finale.
For more details, check out Resorts World Genting's website.
#2 Roar With Tiger
When: 14 June to 15 July
Where: Various locations throughout the country
The party's not only in the Klang Valley! Tiger is taking their viewing parties around the country, with some of the locations including The Beer Factory (Sunway Giza), Monkey Bar (Penang), and Todd's (Melaka). Here, you can play games and stand to win limited edition football merch, and redeem exclusive football memorabilia with your TigerMY app!
For the full list of locations, check out their Facebook page. The events are only open to non-Muslims ages 21 years and above though.
#3 Aset Kayamas Finale Viewing Party
When: 15 July, throughout the day
Where: Desa Sentral
Catch the final World Cup match at the viewing party that also promises to be a carnival filled with loads of fun activities and celebrity appearances. Former Manchester United duo, Owen Hargreaves and Teddy Sherringham, will be there too!
#4 Probably The Best Football Party
When: 14 June to 15 July
Where: Various locations throughout the country
At what is claimed to be "probably the best" viewing party, you'll get to play exciting games such as The Hardest Kick and Foot Pong, and enjoy the games with like-minded fellow footie fans. Some of the selected venue include Breakers Bistro (Kota Damansara), Hard Rock Café (Melaka), and Vibe (Johor Bahru).
For the full list of locations, check out their Facebook page. The events are only open to non-Muslims ages 21 years and above though.
Of course, if all else fails, there are the usual mamaks and bars where you can also cheer on your favourite team and enjoy the beautiful game. So, let the hype begin.
3 Toxic Chemicals That Might Be In Your Local Beauty Products
Do you ever look at the ingredient labels on your makeup and skincare products? Your pores will absorb anything you put on your skin. So, maybe it's vital to start seriously thinking about what your beauty products contain.
Beauty brands will always market their products as safe and effective, whether they really are or not because they want to make money. Unfortunately, your health and the quality of your skin is very often a secondary issue.
Thankfully for us, we have agencies such as the National Pharmaceutical Regulatory Agency (NPRA) and the Ministry of Health (MOH), to help test and warn us about harmful chemicals and products.
But sometimes, companies sell products without getting approval from NPRA and MOH, or they sell their products despite being banned. So, before you use or buy skin care products, you need to check the label for these three toxic and dangerous ingredients.
Mercury.
Unless you weren't paying attention in science class when you were in high school, mercury is super harmful to human health. Exposure to mercury can damage your kidneys and nervous system. Mercury can also interfere with the development of the brain in unborn and very young children.
When you use skin cream containing mercury, it gets absorbed into your body through your skin, it gets on your hands and you'll end up accidentally eating it at some point too. On top of that, mercury poisoning can also happen from just breathing in the vapours. So you AND anyone around you are at risk. Symptoms of mercury poisoning include tremors, memory problems, irritability, and changes in vision or hearing.
Cosmetic products containing mercury are commonly marketed as skin lightening and anti-aging treatments. If you've been using a lightening skin cream, check the label for mercury. The ingredient might also be listed as "mercurous chloride," "calomel," "mercuric," or "mercurio." If the product doesn't have an ingredients list, don't use it.
So far, the NPRA and MOH have found mercury in these five local beauty products.
1. Tati Ultra Night Cream
2. Deeja Wrinkle Cream
3. ROBISIS Anti-acne Whitening Day & Night Cream
4. Asdanne Whitening Freckle Day Cream
5. Fulenze Whitening Freckle Day Cream
Hydroquinone.
The beauty world is somewhat divided about the harmful nature of this chemical. On the one hand, hydroquinone is able to decrease the formation of melanin (the pigment in skin that gives it a brown colour). But on the other hand, it's depigmentation qualities also reduces the skin's ability to protect itself from harmful UV rays, increasing the risk of skin cancer.
Due to this, hydroquinone is classified as a pharmaceutical product that requires registration with the Drug Control Authority (DCA) and can only be used under the advice of healthcare professionals. Unsupervised usage of hydroquinone can leave you vulnerable to many of its side effects, such as severe skin redness, discomforts such as a burning or stinging, blue or black skin discolouration (ironically) and hypersensitivity.
Skin products with hydroquinone are typically marketed as skin lightening and as a treatment for blemishes and uneven skin tone.
The NPRA and MOH found two local beauty products that have uncontrolled use of hydroquinone.
1. Tati Ultra Treatment
2. Deeja Dream Cream
Tretinoin.
Most dermatologists agree that tretinoin or retinol helps reduce the appearance of fine lines and wrinkles. Retinol, a form of vitamin A, has been used for years to treat acne and undoubtedly makes the skin smoother. The benefits or rather short-term effects of using topical tretinoin products have been widely documented and encouraged by beauty influencers, editors, and celebrities too.
However, overuse of retinol can affect how well your skin cells can function. This is because the chemical causes your skin cells to rapidly produce which in turn makes your skin oversensitive and causes it to peel, become flaky and irritated. Tretinoin, similar to hydroquinone, also causes your skin to become sensitive to UV rays from sunlight.
Due to this, tretinoin is also classified as a pharmaceutical product with hydroquinone and should only be used under advice from healthcare professionals. If you've been using skin products that are anti-aging or for acne treatment, check the label for tretinoin. Tretinoin may also be listed as "retinol," "retinal," "retinyl palmitate" or "retinoic acid."
The NPRA and MOH found one local beauty product with uncontrolled use of tretinoin.
1. Tati Ultra Treatment
We're not here to scare you! We don't want you to have nightmares that your future offspring will be jeopardized all because you wanted to sport a red lip. But we want to remind you that you have options when it comes to what you put on your face and body.
If the makeup industry isn't going to make transparency a priority, we have to take it upon ourselves to do our research so we can make healthy choices!