This Grandpa Was Supposed To Film A Proposal, But Had The Camera On Selfie Mode And Filmed Himself Instead
You know those times when you turn on the camera to take a photo of something only to realise it's on selfie mode, and you're greeted with a double-chinned view of yourself instead?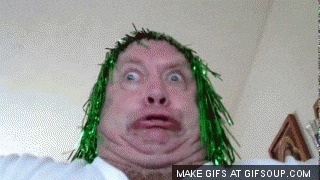 Well, something similar happened to a grandpa recently—he was supposed to film a proposal, but ended up unconsciously recording his reaction to the proposal instead.
John Hart was on a visit to Sandia Peak Tramway in New Mexico last month when he was approached by a man, who sought the old man's help to record his marriage proposal. Since he used to be a Navy photographer, Hart figured it would be an easy task—except he didn't realise the phone was on selfie mode!
Judging by the future groom's off-camera laugh at the end of the video, it's safe to assume that the man was more humoured than annoyed by the accident. Plus, how can anyone fault the old man? Did you see how cute he looked in the video?!