Five Peter Dinklage Movies You Can Watch While You Wait For New Season Of 'GoT'
If you only know Peter Dinklage from the popular HBO series Game of Thrones, then you've been seriously missing out on the unique acting talent possessed by Dinklage.
In a 2003 interview, the 49-year-old said:
"Often roles written for somebody my size are a little flat. They are either fools or they're sort of Lord of the Rings-filled with wisdom. They are not sexual, they are not romantic, they are not flawed. I don't like to do parts that are just because of my size. I like there to be more to the character than that."
And Dinklage has done an admirable job of sticking to that belief throughout his career. The characters that he has played always had many facets, with dwarfism just being one of the many, rather than the defining trait.
So, here are five films with Peter Dinklage in them that you have to watch. Because he's just that good.
#1 The Station Agent (2003)
Finbar (played by Peter Dinklage) works in a New Jersey model train shop. When his only friend suddenly dies and leaves him, he decides to go and live at a disused rail station out in the countryside to get away from the prying eyes of curious humanity.
There, he meets a little black girl who asks him: "Are you a midget?" No, he says, I'm a dwarf. He also meets an eccentric lady who has lost a child (Patricia Clarkson) and a hot dog vendor (Bobby Cannavale), who's equally lonely but determined to make contact.
This film, which received a standing ovation and several honours at The Sundance Film Festival, has managed to show that if people think you're a freak, there are usually two ways to transcend it. Either you play your difference for all it's worth, or you retreat into solitude. Finbar finds a third way.
#2 X-Men: Days of Future Past (2014)
X-Men: Days of Future Past manages to merge both the worlds of future and past perfectly. What could have been messy and possibly incoherent due to the amount of sequels, prequels and sidequels that make up the rest of the X-Men film series, Days of Future Past managed to weave the previous stories together effortlessly and navigate the time travelling plot like a boss. On top of that, it has wit, bite and style,
Days of Future Past unites the casts of both the original X-Men trilogy and Matthew Vaughn's 2011 prequel. Hugh Jackman plays Wolverine (obviously), Patrick Stewart is professor Charles Xavier, and Ian McKellen is Magneto. It also features James McAvoy as a younger Xavier, Michael Fassbender as Magneto and Hunger Games star Jennifer Lawrence as Raven/Mystique.
But the real star of the film is Dinklage, who joins the ensemble as the suavely sinister Dr Bolivar Trask. Trask is the mastermind who develops the Sentinels to help humanity defend itself against mutant powers.
#3 Knights Of Badassdom (2014)
Knights Of Badassdom tells the epic quest of two live action role-playing (LARPing) friends—Eric, a guy "about to level-up to grand sorcerer" (Steve Zahn), and Hung (Dinklage), who seek to cheer up their recently-dumped friend Joe (True Blood's Ryan Kwanten) by whisking him off to a LARP in a campsite dressed up as the fields of Evermore.
And then things get very weird. Using an old book of spells acquired from the internet, Eric accidentally summons a succubus, who immediately goes on a murderous rampage. From there, Knights Of Badassdom goes from a parade of talk-nerdy-to-me jokes to a little-guys-save-the-day action-horror flick.
While the plot of the film is pretty mundane, and there isn't much character development (it's just not that kind of film), Dinklage, as always, is a highlight. His character ends up being one of the few with such a winning personality. If you didn't love Dinklage before, you definitely would after watching this.
#4 Three Billboards Outside Ebbing, Missouri (2017)
Three Billboards Outside Ebbing, Missouri is a movie about a bereaved mother named Mildred Hayes (Frances McDormand) who has had it with the failure of the local police department to find the person responsible for raping and murdering her daughter.
She rents three billboards on a road leading out of Ebbing and pays to have them emblazoned with black lettering on a red background: "RAPED WHILE DYING. STILL NO ARRESTS. HOW COME, CHIEF WILLOUGHBY?"
Dinklage plays James, the "town midget" who wants to go on date with Mildred. His scenes are filled to the brim with cheap shots at short-person jokes. The film uses this instinctive prejudice people have towards dwarfism as a lure to criticise Mildred's false sense of superiority.
After a number of height-related gags, Dinklage delivers a powerful monologue that flips the script on Mildred: "I know I'm a dwarf who sells used cars and has a drinking problem, I know that. But who the hell are you, man? You're that billboard lady who never ever smiles, who never has a good word to say about anybody … and I'm the one who's not the catch?!"
#5 My Dinner With Hervé (2018)
HBO drama My Dinner with Herve tells the true-life story of French actor Herve Villechaize and British journalist Sacha Gervasi (renamed Danny Tate for the film), who proved to be an unlikely confidante in Villechaize's final days.
A dwarf and painter-turned-actor who committed suicide at 50 in 1993, Villechaize enjoyed a brush with stardom in the 1970s: first as Scaramanga's ruthless henchman Nick Nack in the 1974 James Bond film The Man with the Golden Gun, and later in Fantasy Island as Tattoo, best remembered for his famous line, "De plane! De plane!". But when the work and money dried up, the hard-partying star became a recluse in his Los Angeles home, where the movie picks up.
The film, in which Dinklage delivers an amazing performance, couldn't be more meta: The most famous dwarf on a TV show now playing the most famous dwarf on a show back then.
Catch My Dinner With Herve when it airs on HBO, on 24 October (Wednesday) at 7.05pm or on 29 October (Monday) at 12.55pm.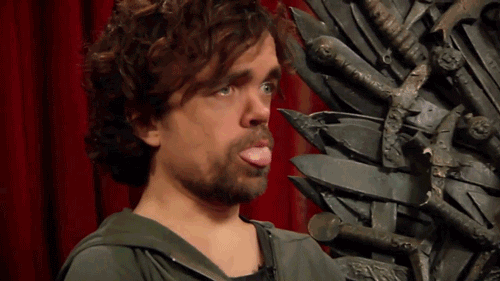 Now, a Dinklage movie marathon anyone?
8 M'sians Kena Halau From The Cinema After Kantoi They Were Recording Avengers: Endgame
Due to wanting to spoil Avengers: Endgame for others so bad, eight Malaysians kena halau out of the cinema hall after they were caught recording scenes of the film by officers from the Ministry of Domestic Trade and Consumer Affairs (KPDNHEP).
Padan muka, terus tak dapat tengok the film sampai habis.
According to a report by Astro Awani who spoke to KPDNHEP Chief Enforcement Officer Azeem Nazuri, 10 officers were dispatched to monitor 21 cinema halls from 7pm to 12am yesterday in an effort to clamp down on piracy. The officers reminded viewers in the hall before the start of each film about the repercussions of recording films in movie theatres.
"The operation was carried out with the cooperation of the film industry to educate and remind the public to avoid making any unauthorized recordings or streamings on social media.

The public need to understand that copyright laws need to be respected and protected."
Clearly, the eight offenders took no heed on the warnings and based on the report, all eight culprits were found to have recorded and photographed scenes from the film using their smartphones.
Luckily for them, the officers let them off with just a warning after instructing them to erase all recordings and photos on their phones before they were released.
However, future offenders may not be as lucky cause according to the act, those found guilty could be fined up to RM100,000 and/or face up to 5 years jail time.
The authorities will reportedly be conducting more checks periodically at cinemas in popular shopping malls nationwide.
If you see anyone illegally recording at cinemas, you can tip off the ministry by calling their hotline at 1800-88-6800. Or, if you shy shy, you can WhatsApp the ministry too, at 019-2794317. Dah maju dah, ada WhatsApp!