Five Peter Dinklage Movies You Can Watch While You Wait For New Season Of 'GoT'
If you only know Peter Dinklage from the popular HBO series Game of Thrones, then you've been seriously missing out on the unique acting talent possessed by Dinklage.
In a 2003 interview, the 49-year-old said:
"Often roles written for somebody my size are a little flat. They are either fools or they're sort of Lord of the Rings-filled with wisdom. They are not sexual, they are not romantic, they are not flawed. I don't like to do parts that are just because of my size. I like there to be more to the character than that."
And Dinklage has done an admirable job of sticking to that belief throughout his career. The characters that he has played always had many facets, with dwarfism just being one of the many, rather than the defining trait.
So, here are five films with Peter Dinklage in them that you have to watch. Because he's just that good.
#1 The Station Agent (2003)
Finbar (played by Peter Dinklage) works in a New Jersey model train shop. When his only friend suddenly dies and leaves him, he decides to go and live at a disused rail station out in the countryside to get away from the prying eyes of curious humanity.
There, he meets a little black girl who asks him: "Are you a midget?" No, he says, I'm a dwarf. He also meets an eccentric lady who has lost a child (Patricia Clarkson) and a hot dog vendor (Bobby Cannavale), who's equally lonely but determined to make contact.
This film, which received a standing ovation and several honours at The Sundance Film Festival, has managed to show that if people think you're a freak, there are usually two ways to transcend it. Either you play your difference for all it's worth, or you retreat into solitude. Finbar finds a third way.
#2 X-Men: Days of Future Past (2014)
X-Men: Days of Future Past manages to merge both the worlds of future and past perfectly. What could have been messy and possibly incoherent due to the amount of sequels, prequels and sidequels that make up the rest of the X-Men film series, Days of Future Past managed to weave the previous stories together effortlessly and navigate the time travelling plot like a boss. On top of that, it has wit, bite and style,
Days of Future Past unites the casts of both the original X-Men trilogy and Matthew Vaughn's 2011 prequel. Hugh Jackman plays Wolverine (obviously), Patrick Stewart is professor Charles Xavier, and Ian McKellen is Magneto. It also features James McAvoy as a younger Xavier, Michael Fassbender as Magneto and Hunger Games star Jennifer Lawrence as Raven/Mystique.
But the real star of the film is Dinklage, who joins the ensemble as the suavely sinister Dr Bolivar Trask. Trask is the mastermind who develops the Sentinels to help humanity defend itself against mutant powers.
#3 Knights Of Badassdom (2014)
Knights Of Badassdom tells the epic quest of two live action role-playing (LARPing) friends—Eric, a guy "about to level-up to grand sorcerer" (Steve Zahn), and Hung (Dinklage), who seek to cheer up their recently-dumped friend Joe (True Blood's Ryan Kwanten) by whisking him off to a LARP in a campsite dressed up as the fields of Evermore.
And then things get very weird. Using an old book of spells acquired from the internet, Eric accidentally summons a succubus, who immediately goes on a murderous rampage. From there, Knights Of Badassdom goes from a parade of talk-nerdy-to-me jokes to a little-guys-save-the-day action-horror flick.
While the plot of the film is pretty mundane, and there isn't much character development (it's just not that kind of film), Dinklage, as always, is a highlight. His character ends up being one of the few with such a winning personality. If you didn't love Dinklage before, you definitely would after watching this.
#4 Three Billboards Outside Ebbing, Missouri (2017)
Three Billboards Outside Ebbing, Missouri is a movie about a bereaved mother named Mildred Hayes (Frances McDormand) who has had it with the failure of the local police department to find the person responsible for raping and murdering her daughter.
She rents three billboards on a road leading out of Ebbing and pays to have them emblazoned with black lettering on a red background: "RAPED WHILE DYING. STILL NO ARRESTS. HOW COME, CHIEF WILLOUGHBY?"
Dinklage plays James, the "town midget" who wants to go on date with Mildred. His scenes are filled to the brim with cheap shots at short-person jokes. The film uses this instinctive prejudice people have towards dwarfism as a lure to criticise Mildred's false sense of superiority.
After a number of height-related gags, Dinklage delivers a powerful monologue that flips the script on Mildred: "I know I'm a dwarf who sells used cars and has a drinking problem, I know that. But who the hell are you, man? You're that billboard lady who never ever smiles, who never has a good word to say about anybody … and I'm the one who's not the catch?!"
#5 My Dinner With Hervé (2018)
HBO drama My Dinner with Herve tells the true-life story of French actor Herve Villechaize and British journalist Sacha Gervasi (renamed Danny Tate for the film), who proved to be an unlikely confidante in Villechaize's final days.
A dwarf and painter-turned-actor who committed suicide at 50 in 1993, Villechaize enjoyed a brush with stardom in the 1970s: first as Scaramanga's ruthless henchman Nick Nack in the 1974 James Bond film The Man with the Golden Gun, and later in Fantasy Island as Tattoo, best remembered for his famous line, "De plane! De plane!". But when the work and money dried up, the hard-partying star became a recluse in his Los Angeles home, where the movie picks up.
The film, in which Dinklage delivers an amazing performance, couldn't be more meta: The most famous dwarf on a TV show now playing the most famous dwarf on a show back then.
Catch My Dinner With Herve when it airs on HBO, on 24 October (Wednesday) at 7.05pm or on 29 October (Monday) at 12.55pm.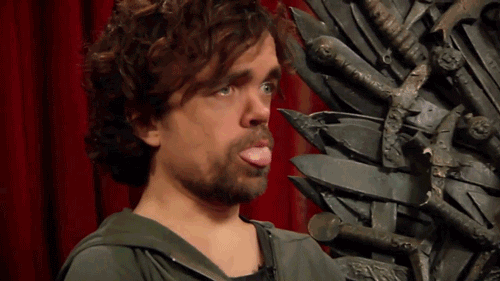 Now, a Dinklage movie marathon anyone?
Calum Scott Talks To Us About His Love For Char Kuey Teow, And Writing His Album, Only Human.
Last weekend, Calum Scott had his first showcase in Malaysia. Tickets to the showcase reportedly sold out in less than 10 hours. The showcase was an intimate performance of 4 songs in front of just about 100 people. The next day, we got to sit down with him and talk to him about his experience in Malaysia, his debut album, Only Human and his writing process.
SYOK: There's was a big time gap between after you won British Got Talent and the launch of your first album. Was there a specific reason for the time gap?
Calum Scott: I'd had an overnight success with my audition on Britain's Got Talent. Let's not forget I was working in human resources so I was as normal as everybody else. I loved to sing but had no idea on how to make an album or how to write a record. Being signed to Capitol Records was a monumental moment for me in my career. But it meant that I really had to start working hard to be able to achieve where I'm at now. That meant starting from scratch with an album. So, I had to learn how to become a song writer, how to get my feelings down onto paper. And, ultimately to write a record that people are going to listen to for years to come. So, it took a little time to get that together and to get those skills working.
S: Did you write all the songs on the album?
CS: I did. I can't take credit for "Dancing On My Own". If I did I'd be legally sued (laughs). I did write the majority of the songs on there. Because song writing is incredibly important to me. And, being a part of the stories and telling it from my perspective is what I think gives the songs the edge. I think it also gives them humility. In terms of people relating to what I've been through because I'm not the only one who's been through it. And I wont be the last.
S: What inspired you the most when you were writing the songs?
CS: I think being just a hopeless romantic. If you look at the album, there's a story from each [song]. Because I was learning how to become a songwriter, as I was going through this crazy career. My songs sort of followed that pattern as well. So, I take my inspiration literally from living my life, one day to the next. And all the highs and lows of that. Missing home, falling out with people, making up again. Falling out with them again. Making up with them again (laughs).
S: Did you struggle to find the direction of your music?
CS: Yeah. To be signed to Capitol Records, in itself; being amongst the likes of The Beatles, and Katy Perry, and Sam Smith, and these incredible artists was such an overwhelming thing. [To] write an album full of songs that I'd written myself was just almost too daunting to start the project. So, I just thought to myself "I just need to write great songs". I [went] on a journey of writing songs that didn't have any real order or any real thought process. It was more getting into the studio, sitting with my co-writers, pouring my heart out, crying most of the time. And that's when the songs started to take a real pattern and a real shape. I wrote 70 songs for the first album. So, I have many many demos. Not all of which are great (laughs). My mum hears my demos before anybody else. And so there were quite a number that were discarded before the label had them. Once I'd written the 70, out of those there were a few golden nuggets really that made the album what it is. And I just hope I write another 70 more [for the second album] (laughs).
S: Speaking of the second album, can you describe the genre of the songs?
CS: I'm conscious that I've amassed by fan base through what I've written already, so the last thing I wanna do is to change direction completely from album one. I kind of want to write more of the same. If I've got to be honest, I look to people like Adele, who has written three albums of complete heartbreak and we still buy them. And we still listen to them. And with her third album it was bigger than any of her previous. And it's still heartbreaking and it's still about emotion and it's still that kind of yearning for the one. So, I think I'm gonna write more of the same. But, the most important thing for me is to take my audience on an adventure and into a story. And that has highs and lows. So, as such, so will the album.
S: How many songs have you written for album 2 so far?
CS: Album 2 is a relatively new venture. I started writing the album in February. I've come back now with 4 or 5 demos and I have a full writing trip planned for LA where I'm due to be in 20-25 sessions there. And when I come back its more or less head-on into London, for another 4 weeks. And then, I've been asked to go to Sweden, write some music, Germany. Maybe here in Malaysia, who knows?
S: On Instagram, you posted that you recently worked with DJ Naughty Boy, what was the experience like?
CS: Oh my goodness, so amazing! That actually comes out in the UK next week, Working with people has always been something I look forward to. When I started to sing I was very much singing covers of other people's songs. I don't know if you know, I was in a Maroon 5 tribute band because I just loved their music. His [DJ Naughty Boy] music and his sense of style is very different to what I do.  I'm there to make people cry, he's there to make people dance, so it wasn't a likely partnership. But the song is great. It's still very much a songwriters song, but with his incredible production that does make you wanna move. So, you will not cry to this song, I guarantee! (laughs) The song is called Undo. There's a couple of versions that are flying around. One is just [me] and Naughty Boy. There's a version I believe they're going to radio with, with a female Jamaican rapper called Shenseea. The thought of putting a Yorkshireman, ballad singer, with a Jamaican female rap artist was quite the concoction. But it works. And so I'm very excited for the world to hear it.
S: Who's an artist that you'd really like to collaborate with?
CS: I feel personally, that there is a real gap for a male duet. I think that a male-female duet is great. We've had our fair share of female-female duets. But, there's not a lot of male and male duets. I always take myself back to David Bowie and Freddy Mercury, with "Under Pressure". And I've watched the YouTube clip that they have on it. I don't know if you've seen it but it's without the music and just their vocals. I sat there like that is just insane. It's two very characteristic voices working with each other. So, in the same vein I'd like to do something with Sam Smith, Ed Sheeran, Adam Levine maybe, and just have a male duet. Being in the position that I am. I would love to do something with my sister on my second record. Jade is such a massive part of my life and without her, I wouldn't be sat where I am. But then again, who knows. Maybe a BTS or Blackpink collaboration. Which would be insane. I don't want to split fan groups up (laughs) but, maybe something like that would be really cool. When I sang in French it was cool enough, so. I'd love to do something like that.
S: Are you a K-Pop fan?
CS: Yeah, I really [am]. There's so much energy in there and those guys are doing incredible things all over the world. So, to work with them would be an absolute privilege. 
S: Does music run in your family?
CS: I know for a fact that my mum didn't bless us [Jade and him] with this voice. I mean I love my mum to bits but she can't sing (laughs). And my dad didn't sing and don't think my grandparents did either, so we're [him and Jade] just a rare breed I guess. 
S: Have you always been a fan of love songs?
CS: Always. In the car on the way to our swimming lessons, school, family things that we went to. My mum would always play her favourite songs and they would be by people like Celine Dion, Tina Turner, Queen, Elton John, Meat Loaf. Just massive, massive singers and I think that style and certainly the approach on songwriting really influenced me even before I had a voice. I've always loved a good ballad, I'm a sucker for a sad song, and they'll be plenty more in album 2 for sure.
S: You used to work a desk job, now you're an artist, what do you see yourself doing next?
CS: I'm teaming up with a couple of brands this year, one, in particular, is a watch brand, and they've asked me to design their first jewellery line. So maybe be in design? Anything that helps my creativity flow. I gotta have something to make that happen or I'll go crazy and eat crisps all day.
S: Can you share a little bit about your experience in Malaysia so far?
CS: The thing I love about Malaysia specifically is the people. It's taken such a long time for me to get here. And now that I am here, everybody's been so kind. And so lovely. I finished my showcase yesterday and they [the audience] sang [and] finished the song for me. It was just the most emotional… I mean I was crying. Sometimes I'm on stage, and as I'm singing, I'll take myself back, in my head, to being sat at that desk dreaming of [this]. It seems very surreal to jump forward, to be here and be living [it]. And to be in front of a crowd in a country I've never been in before and to get that respect is the most life-affirming thing I've ever had.
S: Did you get to try any of our food?
CS: Yes, I tried satay, nasi lemak and char kuey teow. I love char kuey teow! I love Malaysia and I'd love to come back. I don't know if I can wait for album 2, so it might be sooner than you think.